Geturnt wurde damals in den 60ern mit nacktem Oberkörper, auf dem des öfteren der knallrote Abdruck der Hand unserer Sportlehrerin zu sehen war, genauso wie an den Oberschenkeln hinten oder vorne. Es hieß damals ja auch Leibeserziehung und das hat unsere Lehrerin sehr wörtlich g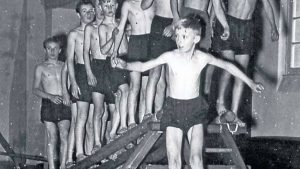 enommen. Übrigens turnten Jungs und Mädchen damals zusammen, da nach dem Krieg Lehrer- und Platzmangel war.
The Physical Education (PE) was done in the 60s with bare torso, on which often the bright red imprint of the hand of our female PE teacher was to be seen, as well as on the thighs, backside or in front. At that time, it was called "Leibeserziehung",in GDR "Körpererziehung, means to educate (and punish) the body, and our teacher took this very literally. Incidentally, boys and girls had PE lessons together at that time because of lack of teachers and locations after the War.
Read –>> Memories of the 1940s