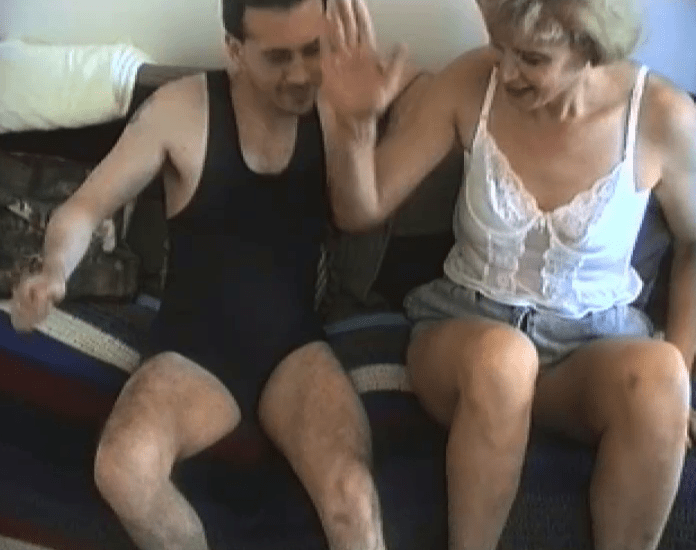 Oft vergessen: Die Oberschenkel ✋
Unsere Sportlehrerin schien es irgendwie reizvoll zu finden, wenn wir ein paar Stunden - manchmal waren es sogar Tage - mit ihrem roten Handabdruck auf unseren Oberschenkeln herumlaufen mussten.
Das Ritual war immer das Gleiche:
Entweder zitierte sie den Delinquenten auf die Holzbank, auf der sie saß, wenn wir nach ihren Anweisungen "herumhüpfen" mussten.
Man musste sich dann neben sie setzen, sie forderte die anderen Mitschüler auf, stehen zu bleiben und mucksmäuschenstill zu sein, hob ihren Arm und klatschte ihre flache Hand mit voller Wucht auf den linken Oberschenkel des rechts neben ihr sitzenden Schülers.
Dieses laute, satte Klatschen, der brennende Schmerz und Sekunden später der knallrote Abdruck ihrer Hand und Finger auf der Haut, das bringe ich in Assoziation mit diesen Clips einer brasilianischen TV-Show.
👇... ab hier hinter dem Schlüsselloch der weitere illustrierte Text nur für Bronze-Mitglieder und höher ... 👇
So tough, wie die Mädels in der Show, waren die meisten von uns nicht.
Die meisten von uns sprangen sofort auf, hüpften wie Hampelmänner herum und rieben sich die wie Feuer brennenden Oberschenkel. Manchmal waren die "Autogramme" unserer Lehrerin nicht nur Stunden, sondern Tage zu sehen. Im Sommer, wenn man kurze Hosen trug, waren die Abdrücke auch für andere sichtbar und man selbst schaute in den nächsten Unterrichtsstunden auch immer wieder auf die "rote Hand", die da zu sehen war.
Ja, das war schon sehr erniedrigend.
Die etwas leichtere Variante war folgende: Wenn man Mist gebaut hat, kam sie auf einen zu und schlug von der Seite aus im Stehen auf die Vorderseite des Oberschenkels. Da man in dem Moment des Aufpralls ihrer Hand ein wenig zurückweichen konnte, war diese Variante manchmal nicht ganz so derbe.
Das waren dann auch nicht so kontrolliert vorgenommene Klatscher, das kam dann eher eilig und mit nicht ganz so voller Wucht. Aber war auch nicht zu verachten. Also ein paar Stunden hatte man die Zeichnung ihrer Finger allemal auf der Haut.
Ja, und heute wird das Spielchen unserer Sportlehrerin in einer TV-Show praktiziert und ich sitze hier und fühle mich wie auf einer Zeitreise in die Vergangenheit.
Das Dumme daran ist: Heute würde es mir gefallen, was damals weh tat.
Aber es gefällt mir heute ja nur, weil es damals mit uns Kindern praktiziert wurde.
Und wahrscheinlich meine Sexualität dadurch insofern beeinflusst wurde, als es mir später gefallen hat - wenn ihr wisst, was ich meine.
Often forgotten: The Thighs ✋
Our PE teacher seemed to find it appealing to let us pupils walk around with her red hand print on our thighs, visible for a few hours, sometimes even days.
The ritual was always the same:
Either she quoted the delinquents on the wooden bench on which she sat when we had to "jump around" according to her instructions.
You had to sit down next to her, she told the other classmates to stand still and to be quiet, lifted her arm and smacked her open hand with full force on the left thigh of the delinquent right sitting next to her.
This loud, lush clapping, the burning pain and seconds later the bright red imprint of her hand and fingers on the skin, I bring in association with these clips of a Brazilian TV show.
As tough as the girls on the show, most of us were not. Most of us immediately jumped up, hopped around like jumping jacks and rubbed our thighs which burned like fire. Sometimes their "autographs" were not just hours, but days to see. In the summer, when we wore shorts, the hand prints were also visible to others and I even looked in the next lesson again and again on the "red hand", which was there to see.
Yes, that was very humiliating.
The slightly lighter version was the following: If you messed things up, she came to you and struck from the side, while standing, on the front of the pupil's thigh. Since one could retreat a little at the moment of the impact of her hand, this variant was sometimes not quite so rough.
Those were not so controlled made bludgers, which came in a hurry and with not quite so full force. But that smacks were not to be despised either. So, for a few hours the drawing of her fingers was always visible on the skin.
Yes, and today this game is practiced on a TV show and I'm sitting here feeling like I'm on a journey back in time.
The stupid thing is: Today I would love to receive what hurt that time.
But I only like it today because it was practized to me like that, back then.
And probably my sexuality was influenced by the fact that I liked it later - if you know what I mean.
👇...  nur für Bronze-Mitglieder und höher ... for bronze members and higher, only ...👇

Aufrufe: 70