Zuletzt bearbeitet am
Nicht weiterlesen, wenn dich das Thema abstößt – Stop reading if the topic repels you!
In meinen Archiven aus den 80ern und 90ern habe ich einen Zeitungsartikel – leider ohne Quelle und Datum – gefunden. Der Autor ist zumindest mit Peter Michalski SAD angegeben. Nach meinen Recherchen könnte es im Hamburger Abendblatt veröffentlicht worden sein Egal. Das musst du lesen!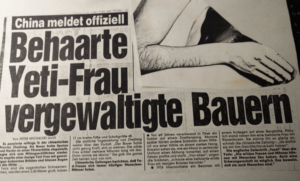 Ich finde allein den Gedanken, als Mann von einem größeren und stärkeren weiblichen Wesen vergewaltigt zu werden, höchst erregend. Mein Leben lang habe ich davon geträumt, aber natürlich sind diese Wunschträume nie Realität geworden.
Es gibt zwar sicher einige Frauen auf diesem Planeten, die größer und stärker sind als ich es bin, aber ich hatte nicht das Glück, dass mich eine solche Frau oder ein solches Wesen begehrte und mit Gewalt "genommen hat". Schade, eigentlich!
China meldet offiziell: Behaarte Yeti-Frau vergewaltigt Bauern
"Es passierte Mittags in der chinesischen Provinz Zhejiang. Ein Bauer hatte Spaten und Hacke an einer Försterhütte abgestellt, legte sich zum Mittagsschläfchen nieder. Da stapfte eine riesige Yeti-Frau mit gewaltigen behaarten Brüsten und blauen Augen in die Hütte …"
Yetis sind die sagenhaften Schneemenschen, werden etwa 2,40 Meter groß, haben 17 cm breite Füße und Schuhgröße 48.
Die amtliche Tageszeitung von Zhejiang weiter über den Vorfall: "Der Bauer hatte nicht genug Kraft, sich zu wehren. Die wilde Frau schlief mehrere Minuten lang mit ihm. dann rannte sie davon. Sie gab die ganze Zeit keinen Laut von sich."
Chinesische Zeitungen berichten, dass Yeti-Frauen sich immer häufiger Menschen-Männer holen.
Vor elf Jahren verschwand im Tibet ein Soldat auf einem Streifengang. Monate später hörten andere Soldaten einen Hilferuf aus einer Höhle an einem steilen Hang. Entsetzt sahen sie, wie ein Mann in zerfetzter Uniform einen Abhang herunterlief, auf einen Felsen prallte und starb. "Von oben", sagten die Soldaten, "schaute eine behaarte wilde Frau mit riesigen Brüsten herunter."
1976 übernachtete ein Beamter mit einem Kollegen auf einer Berghütte. Plötzlich stand neben ihm eine behaarte Frau mit Riesenbusen. Sie starrte ihn so gierig an", schrieb die chinesische Zeitung, – "als wolle sie mit ihm Geschlechtsverkehr haben."
Die englische Zeitung "Fosil" über die Yetis: "Die wilden Frauen und Männer können mit Menschen Sex haben. Auch eine Schwangerschaft ist möglich. Das beweist, dass sie auch Menschen sind."
In my archives from the 80s and 90s, I found a newspaper article – unfortunately without source and date. The author is at least stated with Peter Michalski SAD. According to my research, it could have been published in the "Hamburger Abendblatt". No matter. You have to read that!
Only the idea of being raped as a man by a bigger and stronger female being  is extremely arousing for me. I have dreamed of it all my life, but of course these dreams have never come true.
While there are certainly some women on this planet who are taller and stronger than I am, I was not fortunate that such a woman or creature desired me and "took" me by force. A pity, actually!
China officially announces: Hairy Yeti woman raped farmers
"It happened at noon in the Chinese province of Zhejiang, where a farmer had left spades and hoe at a ranger's hut and lay down for a nap, when a huge Yeti woman with huge hairy breasts and blue eyes stomped into the hut …"
Yetis are the legendary snow people, are about 2.40 meters tall, have 17 cm wide feet and shoe size 48.
The Zhejiang official newspaper continued the incident: "The farmer did not have enough strength to defend himself, the wild woman slept with him for several minutes, then she ran away, never making a sound."
Chinese newspapers report that Yeti women are increasingly fetching male humans.
Eleven years ago, a soldier disappeared in Tibet on a patrol.

Months later, other soldiers heard a call for help from a cave on a steep slope.

They watched in horror as a man in a tattered uniform ran down a slope, hit a rock, and died.

"From above," said the soldiers, "looked down a hairy wild woman with huge breasts."

In 1976, an official spent the night with a colleague in a mountain hut.

Suddenly a hairy woman with huge tits was standing next to him.

She stared at him so greedily", wrote the Chinese newspaper, "as if she wants to have sex with him."
The English newspaper "Fosil" on the Yetis: "The wild women and men can have sex with humans and pregnancy is possible, which proves that they are also human."
Gallery Hairy Women